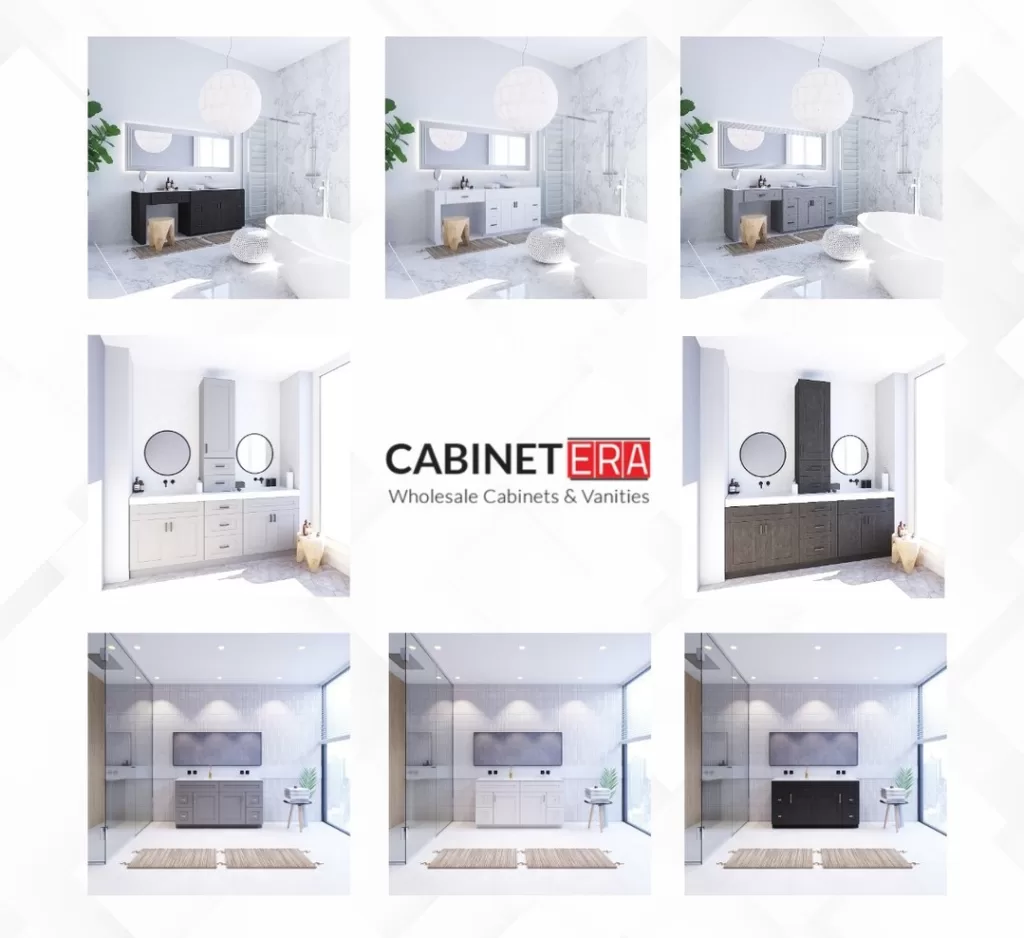 When it comes to home improvement projects, bathroom remodeling can significantly impact your home's functionality and aesthetics. Suppose you want to renovate your bathroom in Oxonhill. In that case, you can choose CABINET ERA because CABINET ERA can turn your bathroom into an enchanting oasis with its expertise and high-quality products. This blog will present seven renovation ideas at Oxonhill that can breathe new life into your bathroom and increase its attractiveness and functionality.
You can modernize your bathroom with a private cabin.
You can upgrade your bathroom storage with custom cabinets from CABINET ERA. You can opt for stylish, contemporary designs that provide ample storage space and add elegance to your area. Custom cabinetry allows you to maximize storage efficiency while perfectly matching the dimensions and style of your bathroom.
You Can Create A Luxury Spa Experience.
Combining luxury spa elements can turn your bathroom into a personal retreat. For a relaxing shower, consider installing a freestanding tub. Add a rain shower head and opt for ambient lighting to create a serene atmosphere. With CABINET ERA, you can choose high-quality fixtures and finishes that radiate luxury and style.
You Can Prefer Natural Materials.
You can bring the beauty of nature to your bathroom by choosing natural materials. Consider using stone or marble countertops that not only add elegance but are also quite durable. Choose wooden accents and accessories to create a warm and inviting atmosphere. CABINET ERA will provide a timeless and organic look for your bathroom by offering various natural materials.
You can upgrade your lighting.
The proper lighting will significantly improve the overall mood of your bathroom. We recommend installing layered lighting, including ambient, task, and accent lighting. Opt for dimmers to adjust the lighting according to your mood and time of day. CABINET ERA will guide you in choosing the right lighting fixtures that provide optimum functionality and blend seamlessly with your bathroom design.
You Should Optimize Storage Space.
We all prefer a clutter-free bathroom to maintain a clean and tidy space. Maximize storage by installing vanity mirrors with built-in storage, or add floating shelves to display decorative items. CABINET ERA will help you design and install customized storage solutions that make the most of your available space while keeping your essentials close at hand.
You can upgrade to Energy Efficient Luminaires.
Energy-efficient luminaires save you money on electricity bills and contribute to a sustainable future. You can replace worn-out faucets, toilets, and shower heads with water-saving options. CABINET ERA will help you reduce your environmental footprint by offering a wide range of eco-friendly luminaires that are both stylish and efficient.
You Can Incorporate Smart Technology.
With the integration of intelligent technology, you can make your bathroom experience even more accessible. You can install motion-activated faucets, automatic temperature control systems, or intelligent mirrors with built-in displays. CABINET ERA will help you choose and integrate innovative bathroom solutions that elevate your daily routine.
Starting a bathroom remodel project at Oxonhill is the perfect opportunity to enhance the functionality and aesthetic appeal of one of the most critical areas in your home. With CABINET ERA, you can bring your vision to life and turn your bathroom into a luxury haven. Whether you want a modern, spa-inspired sanctuary or a traditional, timeless design, their expertise and top-quality products will ensure a successful bathroom remodel. Apply these seven remodeling ideas and enjoy a revitalized bathroom that perfectly reflects your style and meets your practical needs.