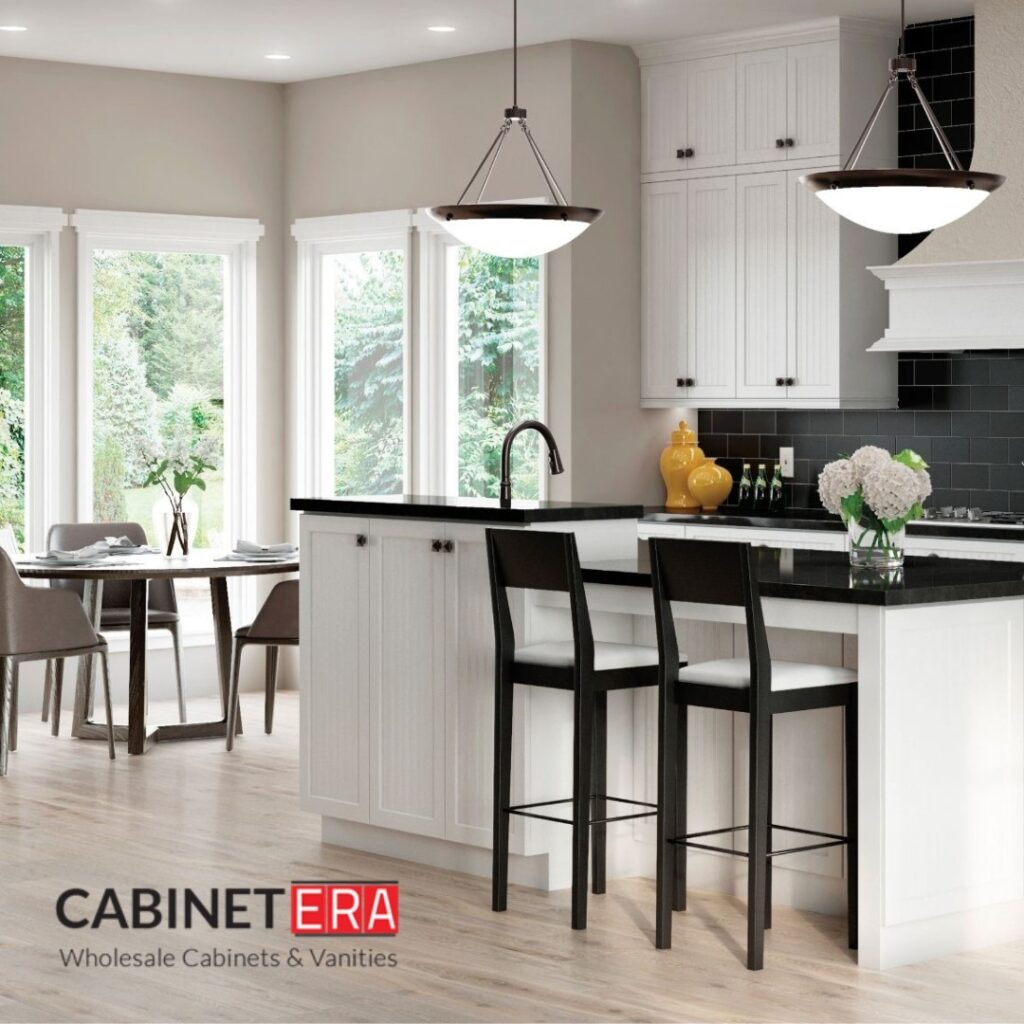 You are probably in search of many small kitchen remodeling ideas for your home in Alexandria VA. Many homeowners want to redesign a small kitchen and make their homes more comfortable. As part of small kitchen renovations, if you have a small space and want to maximize it, CABINET ERA offers you the 7 best methods. In this context, CABINET ERA will tell you about the best small kitchen remodeling tips for Alexandria VA.
Make Detailed Observations and Be Sure of What You Want.
If you want to make the most of your small kitchen, it will be advantageous for you to look at the renovated small kitchens in your neighborhood. That way you can observe what is more appropriate. Make tours in Alexandria VA. In this way, you can get some valuable data for your project. You can also get small kitchen cabinet ideas from your friends.
Determine Your Working Triangle
Maintain good flow between kitchen cabinets, sink, refrigerator, and dishwasher for a good small kitchen remodel. As these factors move in the kitchen, they will be our main routes when cooking. Therefore, they must be easily accessible. We need to have difficulty going from cooking to the next stage. Also, consider the space you have when your dishwasher or refrigerator doors are open. Imagine what it would feel like to move comfortably in the work triangle of your small kitchen. If it seems uncomfortable, create more space for yourself or try a different layout.
Determine Your Kitchen Cabinet Choices
A small kitchen remodel won't look good without the right kitchen cabinets. For example; custom kitchen cabinets are the best method to maximize your space. To realize that every inch of your kitchen is useful, it will be enough to contact us as a cabinet designer. You can also choose to extend your cabinets up to the ceiling. This will turn your entire kitchen area into a usable area.
Lighting Is The Best Of A Small Kitchen Space
It is quite possible to make up for the lack of space by making good use of the lighting design. When you design every part of your kitchen well, you will have a larger and more comfortable space.
Opposite Actions
Choose a patterned wallpaper. This choice will make your kitchen feel like it has more width. Many individuals prefer tiles for wallpapers. Tiles are also popular nowadays for kitchen cabinet designers. It gives your kitchen a classic look that will never go out of fashion.
Color Schemes
Coordinating colors in your small kitchen will make a difference and make your dreams come true. A good choice would be a standard white kitchen. Preferring light colors is usually a good choice.
This is because it reflects more light. Therefore, it makes a small kitchen look brighter. This will help make the space feel larger than it is.
Creating a sense of separate spaces will be a unique choice to add contrast to a small kitchen. Also, a black countertop in a white kitchen would be the perfect choice for your kitchen.
Small Gadgets
While most of us wish for a Jumbo refrigerator that will store our food for years, this will not fit in a small kitchen. Choose smaller appliances proportional to the size of your kitchen. Many European brands come in smaller sizes because the houses are smaller along the pond. They also have a stylish look that will impress any guest you have.
You can even completely ignore the dishwasher and prefer hand washing. This will provide you with more storage space and will create a lot of dining space in your kitchen.
Can You Add a Window to Your Kitchen?
Getting more natural light in a small kitchen can be a solution to many problems. Windows support more visual space so you don't feel pressed. It also provides more ventilation, making it easier to breathe. There's nothing that feels better than shimmering sunlight falling on you while you brew your morning coffee. If you are considering a kitchen cabinet renovation in Alexandria VA, you can contact us and benefit from our free consultation.