Are you redesigning or designing a new bathroom to go into a new home? If you are, then you may be frantically trying to remember all those bathroom design tips that you have heard. And you may be feeling a bit overwhelmed when it comes to designing this bathroom since there is so much information out there to read. For those who are looking to update their bathroom or who are starting from scratch, we have several bathroom design tips that are meant to ensure that once complete the bathroom in your home is going to be one of those areas that you absolutely love to show off and use.
Bathroom Design Tips to Remember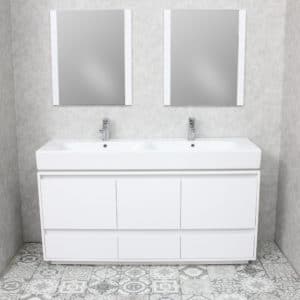 Here are some of the bathroom design tips that you want to remember to ensure this room is fabulous.
If you are starting from scratch, try not to make this bathroom too small. You still want to be able to fit into this bathroom all those things that you have always wanted. However, if you are remodeling, then be sure that you are taking the size into mind when replacing items. While you may want a garden tub, if the size of the actual room is not going to allow this to fit, then you need to think again.
Go with calming colors when it comes to the walls and floor. This is going to give a relaxing feeling when you are in here, and give that spa vibe that so many people are interested in having.
Do consider double bathroom vanities if you can. You will find that double vanities or what is better known as "his and her" sinks is going to allow for everyone to have easy access to this bathroom and make it useful. For bathroom vanities Arlington VA you will find that there are several options including sizes and styles to fit your design idea.
Consider adding a tub into the bathroom, even if you are more of a shower person. The reason being is that a tub is a great selling point for if or when you decide to sell your home.
Remember to have adequate lighting. There is nothing worse than having your dream bathroom but finding out that the light is too dim to get the full effect. Consider ceiling lighting, as well as vanity lighting to get the best result in this room.
When it comes to bathroom vanities in Arlington VA,  you are going to find that the vanity that you choose to put into your bathroom is going to be one of the main ways to make your entire room come together. Luckily, there are tons of choices when it comes to what you should be doing, so be sure to take the time to look at your options and find what works with the decor that you had in mind, as well as the space. While you  may want double vanities, always remember that the space is the real issue, so keep this in mind.