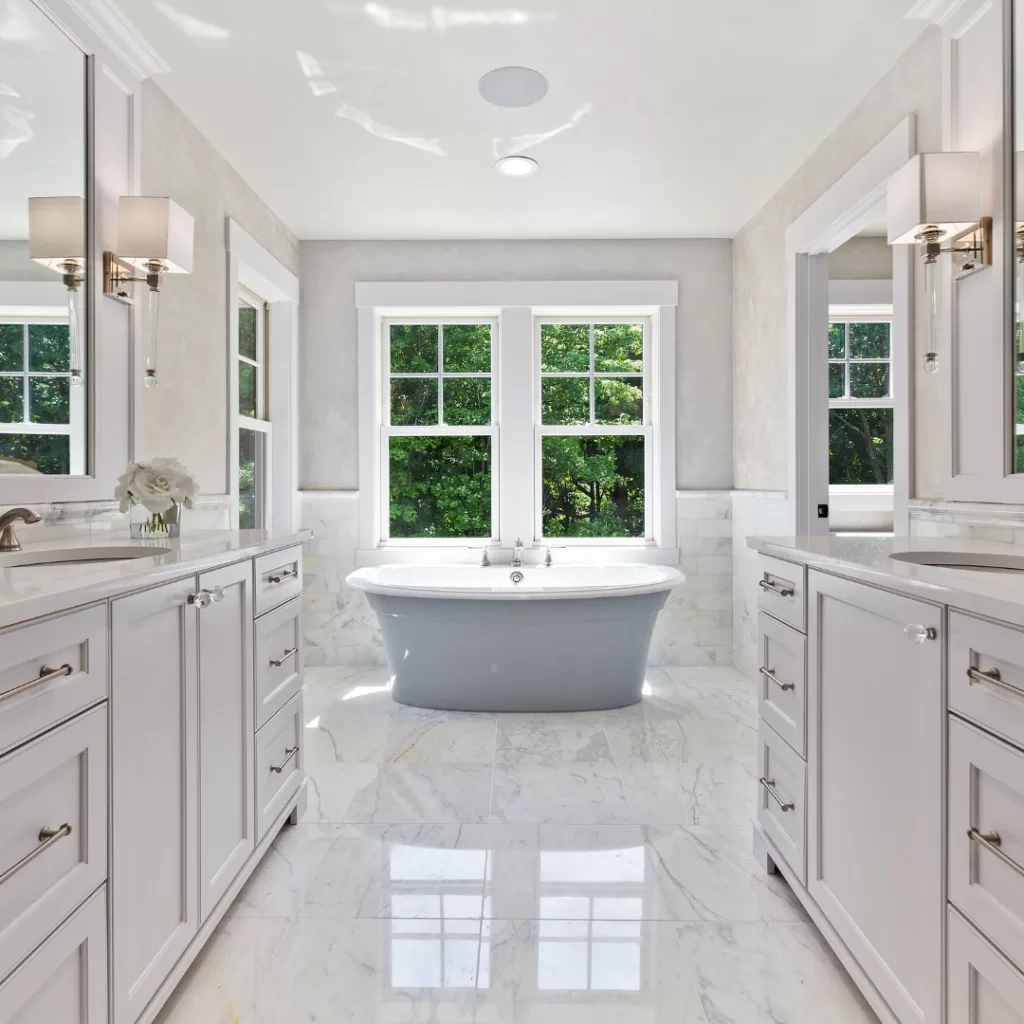 Excited to remodel your bathroom in Catonsville, MD? This will be an exciting endeavor! When planning a bathroom remodel, you must first strike a balance between providing comfort and reflecting on your style. Careful planning is essential for the successful and satisfying bathroom remodeling. We've put together some basic tips to help you get started with your bathroom remodeling project.
Set a plan and budget
Before having a bathroom renovation, it would be beneficial to have a meeting with your family. You can discuss with your family members which fixtures and finishes you want to choose and how much budget you would like to spend. We recommend that you research the modeling costs, design budget, materials, and workmanship in detail. In this way, you will have a realistic budget adjustment. Here are some questions to help you estimate the cost of redesigning your bathroom:
1- How much did you budget?
You should always consider your alternatives for payment terms. Like cash or financing. We do not doubt that keeping your budget realistic will make your home an investment rather than a financial burden.
2- Do you plan to sell your house in the future?
If you are planning to put your home on the market, you will need to consider which bathroom features can help increase the resale value of your home. You should explore the various design styles that your potential buyers will like and love. Bathroom remodeling in Catonsville MD will undoubtedly offer you a significant return on investment.
3- What are the important designs you want to add to your bathroom?
You should consider everyone when designing your bathroom space. You can integrate design elements according to your wishes and lifestyle. Furthermore, you can make a budget planning by determining which of these designs is more important to you.
When planning a budget, it will be advantageous for you to stick to your plans without going out of your budget. We recommend that you set aside 20% of your emergency budget in case some unexpected expenses occur during your project. If you're having trouble getting everything set up for your bathroom, you should seek professional advice.
You must determine your bathroom design
A standard bathroom includes a toilet, bathtub, shower, and sink. If you're remodeling a guest bathroom in Catonsville, MD, or planning in a limited space, a sink and toilet with a small shower will suffice. What kind of bathroom will you be planning for? A full bathroom or master bathroom? Are you planning to start from scratch or plan something new for your existing bathroom? Being able to answer these questions will give you a better idea of what you want.
Decide on your toiletries
Redesigning your bathroom will take a lot of detailed planning and thought. You can have unique ideas for your designs. But these require certain materials and textures. You should purchase products and materials that will truly meet the needs of your remodel. Choosing the right materials is critical when it comes to many things such as countertops, bathtubs, lighting, bathroom cabinets, tile flooring, vanity tables, and bathroom fixtures. If you want to see which ones work for you and which ones don't, you can follow the latest trends in bathroom remodeling.
You must choose the right lighting materials
One of the most important bathroom renovation ideas will be to choose the right lighting for your bathroom. You will need to decide whether you prefer natural or artificial lighting. Adequate and elegant bathroom lighting will affect how you look in the mirror and will help modernize your bathroom look.
You should carefully place windows on your walls for natural lighting. We do not doubt that adding many windows and skylights will make your bathroom feel brighter and airier. You can add blinds or privacy curtains to gain the privacy you need in the bathroom. Mirrors will also help to make the space feel larger by reflecting the natural light from the windows. For artificial lighting, LED recessed lights with wall sconces next to or above the mirror would be a great idea. LED lights can be in various colors. At the same time, these lights provide energy savings that can last for a long time.
You can follow us on Instagram 🙂