Having a bathroom vanity is one of many ways to spruce up the interior of your bathroom. As you already know, the bathroom is an important area within our living space, and more often a place where we relax and free the mind of worries while enjoying a cool or hot bath. 
Therefore, it makes perfect sense to make your bathroom space as appealing as possible. In its most basic look, the vanity in your bathroom is a piece of furniture with drawers and one or more cabinets. Usually, it is right below the sink and a mirror. It is also an essential utility and design feature if you're looking to make the most of your bathroom space. 
Here, we discuss five ultra-modern bathroom vanity designs, which are a great help if you're on the lookout for vanity cabinet designs or bathroom design ideas.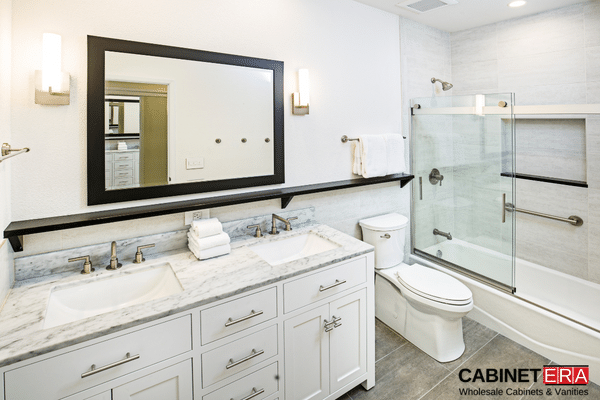 1. Try Conventional Wooden Bathroom Vanity Designs
For a modern bathroom, using wooden bathroom vanities gives you a classic look in your bathroom. The warm and natural feel of the wood gives off a retro and vintage vibe. If you wish to keep water away from the vanity, you can install one with legs so that it stays off the ground.
2.  Loving Sleek and Curvy Bathroom Vanity Designs
The horizontal shape of this bathroom vanity gives it a somewhat modular bathroom vanity design. A great idea for achieving this is combining a beautifully crafted vanity, a small sink, and a curvy modern cabinet, all sitting right under a backlit mirror. You can use dark-colored cabinets against white walls for a beautiful contrast.
You May Also Like; How to Choose the Perfect Bathroom Vanity | Cabinet Era
3. Go for a Minimalist's Bathroom Vanity
A minimalist bathroom design idea essentially focuses more on the bathroom's functionality than its aesthetics. However, the beauty of the bathroom vanity will still be evident with a minimalist design. Consider installing a simple floating vanity drawer, a wide, yet simple mirror, and a petit utility cabinet. 
4. Pastel-Coloured Modern Bathroom Vanity Designs
If you're looking for a dash of fun vibes in your bathroom, you can't go wrong with a pastel-colored bathroom vanity. The color alone introduces a retro feel in the space. Also, you have a perfect bathroom storage design with this bathroom design idea. 
5. Go for a Spa-Inspired Bathroom Vanity Designs
For a peaceful getaway within the walls of your own house, you can think outside the box for a moment. A spa-like bathroom vanity is a way to go here. In addition to offering you an ideal bathroom storage design, you can be sure of getting a contemporary vanity design.
Want more tips for beautiful bathroom vanity designs? Feel free to reach out to us today and check out our amazing collection of exquisite bathroom vanities at Cabinetera.
You can follow us on instagram 🙂