If you're reading this post, my guess is you're interested in learning some new vanity ideas for your bathroom or just updating yourself on current bathroom vanity trends. Indeed, as the years continue to roll by, new ideas keep coming out. Interestingly, the bathroom is not left behind in man's daily evolution. 
So here, we'll introduce you to a few of the latest bathroom vanity ideas on the market and see if any of these fit your style.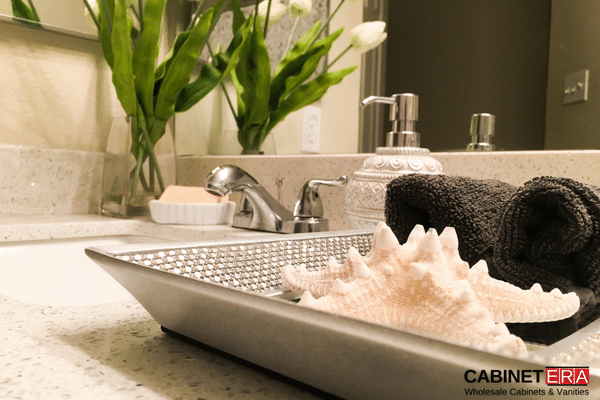 Warm Colors – Bathroom Vanity Trends
In general, bathroom cabinet color trends in 2022 are going towards warm colors, which justifies the growing emphasis on color and warmth in bathroom decorations. Luckily, there is a vast combination of colors that will give you the warmth you want in your bathroom. And with the help of a professional, you can be sure of getting the best bathroom design ideas.
Natural Wood – Bathroom Vanity Trends
You can go for natural wood colors to add a natural tone to your bathroom. With the proper finish, wood can stand up to the moist conditions in a bathroom. The wood gives your bathroom a natural, earthy feel, making it a more relaxing space.
Floating Cabinets – Bathroom Vanity Trends
Another attractive alternative is a floating cabinet. A floating vanity has no connection to the floor. It is mounted to the wall instead and appears to be floating off the floor. It even makes it easy to clean the floor when necessary. Complementing this with a modular vanity cabinet design helps to upgrade the look of your bathroom.
Open Shelving – Bathroom Vanity Trends
Your bathroom cabinets need some shelving to have doors. You can have a few open shelves in your bathroom to provide you with that spa feeling within your own space. This is a fantastic bathroom design idea.
White and Gray – Bathroom Vanity Trends
Wondering which bathroom cabinet color trends are best for your modern bathroom? You have a plethora of good choices to pick from. Consider going for a color combination that suits your lifestyle and family. If you're not sure which colors to go for, you might want to try out gray and white. These two are a perfect match, any time. There is a trend of white or gray bathroom cabinets in many modern homes. 
Are you looking to modernize your bathroom cabinets with contemporary bathroom vanity ideas? We have a plethora of excellent vanity cabinet designs and modular bathroom designs that you can select from. Get in touch with us today at Cabinetera to speak with any of our expert bathroom designers.