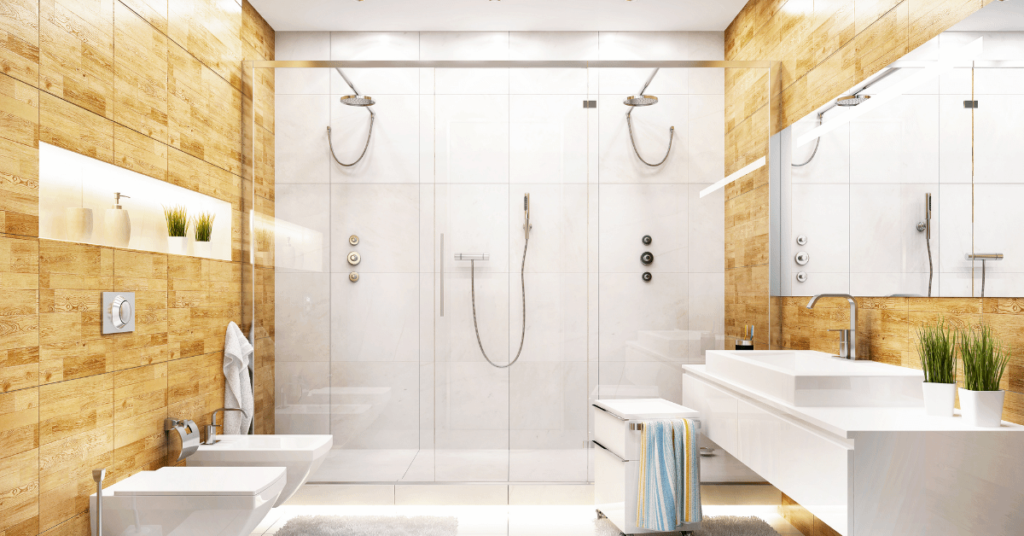 The bathroom is one of the most essential rooms in a house. Size is one of the most vital things to consider in a bathroom. A big bathroom space can improve your ability to perform daily activities in your bathroom, as well as the look of the space. 
The bathroom can be used for relaxation, but this can be hindered if your bathroom looks cramped. Here are 12 ways to make your bathroom look bigger no matter its size.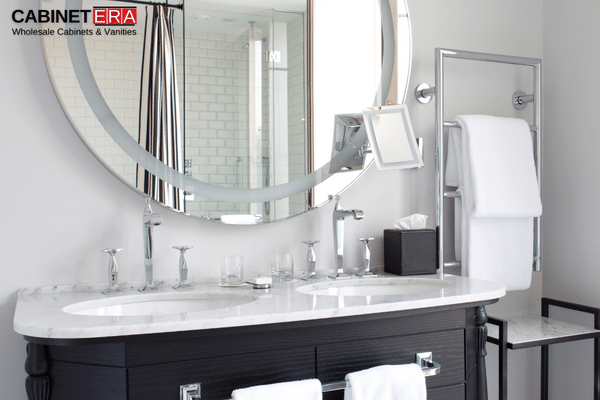 Use Good Lighting
Adequate lighting has a way of making a space look larger than it is. Bathrooms usually have poor natural lighting. This makes it important for you to invest in good lighting for your bathroom. It is advisable to have a wide range of light sources at different spots in the bathroom as this prevents the formation of shadows. 
Use Long Floor Tiles
If you are looking to make your bathroom appear bigger, you might want to consider the use of floor tiles to make a room look bigger. Long floor tiles can make the breadth of your bathroom appear bigger. They can also make the length of your bathroom appear lesser than it is. This plays a trick on your vision and makes your bathroom look bigger. 
Do Not Use a Shower Curtain
A shower curtain can make your bathroom look even smaller. You can use a glass panel in place of a shower curtain. In this way, you enjoy the benefits of a shower curtain without concealing any space. You can use a tinted or frosted glass panel if you prefer a bit more privacy in the shower. 
Use a Floating Vanity
A floating vanity gives you ample space for storage without consuming your bathroom space. It Is one of the simplest ways to make your bathroom bigger, especially because it does not affect the floor space. 
Use White Tiles
The color of the floor plays a big role in making a room appear bigger. So, what color of flooring makes a room look bigger? White floor tiles are a great option if you want to make your bathroom look bigger than it is. To maximize the benefits of white flooring, you can combine it with white finishes, white walls, and white drawers. Adequate use of light in the bathroom encourages the reflection of light within the room. This gives the bathroom a breezy feel associated with large spaces. 
Use a Large Mirror
A large mirror can make a bathroom look twice its normal size. Large mirrors are even more useful in narrow bathrooms with little space. Despite the fact that large mirrors can be quite expensive, their effectiveness in making a bathroom space look bigger makes them a worthy investment. 
Use a Sm
all Vanity
Vanities can occupy a whole lot of space in the bathroom. To make the bathroom appear bigger, you can use a simpler vanity. A floating rack can be installed on the wall to make up for storage space. 
Use the Same Floor
ing
This is how to make a small room look bigger with flooring. If you use the same flooring all through your bathroom, it makes the bathroom space appear bigger in size. Using different tiles in your bathroom can make it appear as though it`s divided into sections. 
Use the Same Tiles on the Wall and Floor
This is yet another way you can use floor color to make a room look bigger. Tiling the walls of your bathroom can make it appear bigger. To visually magnify your bathroom space, even more, use the same tiles on the walls as on the floors. 
Use the Same Tone
Avoid contrast while trying to make your bathroom space look bigger. Do not combine a dark tone with a light tone as this will create the illusion of smaller bathroom space. 
Paint
 the Ceiling the Same Col
or as the Walls
Painting the ceiling the same color as your walls will unify the ceilings and the wall, reducing the number of intersecting planes and giving your bathroom a more expansive look. Naturally, ceilings appear darker than the walls. If you use a color that Is a shade lighter than the color of the walls for the ceiling, the two colors will still blend very easily. 
Declutter
Remove every unnecessary item in your bathroom, especially from the floor. Larger floor space makes your bathroom look bigger. 
If you`re in need of a bathroom designer to remodel your bathroom and make it appear bigger, reach out to us today at Cabinetera. Our experienced designers can help you make the perfect choice. Call us today at (708)78257777 or (410)8344808. 
You can follow us on Instagram 🙂