Are you looking to upgrade your kitchen cabinet colors in 2022? If so, you're in the right place. We've rounded up a few modern kitchen remodeling ideas, including modern kitchen cabinet trends and DIY kitchen remodel ideas to get you started.
Why change your kitchen cabinet colors, anyway? Great question!
Actually, we've seen from experience that a new cabinet color can make the entire space look new and fresh. Most kitchen design trends typically incorporate new kitchen cabinet colors — and they're a great way to raise the value of your home for resale purposes.
Alright, let's dive in already. Here are some 2022 kitchen cabinet colors you should try out in your home today.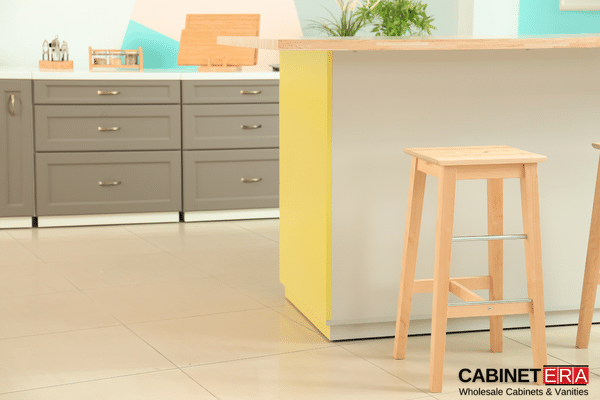 Sprayed or Hand-Painted
For every kitchen update, you have two options: you can either choose prefab cabinet doors or custom-made doors. The latter custom-made ones come with the option of being sprayed or hand-painted. While spray-painted doors are ideal for contemporary glossy styles, the hand-painting option takes longer. Hand-painted cabinets are suitable for almost all styles, and they can be easily enhanced.
Mood and Lighting
One thing to note about kitchen remodeling and kitchen cabinet color choices is that it depends on your preference — mood, as well as the light in your kitchen. Consider the amount of natural light available in your space, as that can help you determine the degree and type of lifting required.
Match Color to Backsplash
Your kitchen backsplash can offer you some good inspiration regarding the kitchen colors you should go for. Ideally, you want to make it complementary. 
Try a Combination of Colors
Kitchen color combinations can make your space come out really beautiful. Try two or three different colors to strike the right balance that suits you best. Consider installing modern kitchen cabinets, as their designs could allow you the freedom to experiment with more expressive colors. 
Try Minimalist Matte
Matte is an excellent color choice for conservative or classic kitchen designs. If you're looking to achieve an organic style in your kitchen update, try to feature a matte. It's a great way to achieve lux for less.
Want More 2022 Kitchen Cabinet Trends?
This list we discussed is not exhaustive on the subject, but it's a great place to start. For more modern kitchen cabinets ideas, consider hiring a professional to work with you. 
For more 2022 kitchen cabinet colors, feel free to reach out to us at Cabinetera. We boast of years of experience helping homeowners create their dream homes.