The kitchen is one of the most important rooms in the house. From little family 'together times' to regular, everyday kitchen activities, there are different kitchen models and kitchen ideas available today. 
One of the most frequent questions we get asked by our clients is, "How do I change my kitchen?". In answering this question, we feel there's a need to highlight the reasons why you may need to remodel your kitchen.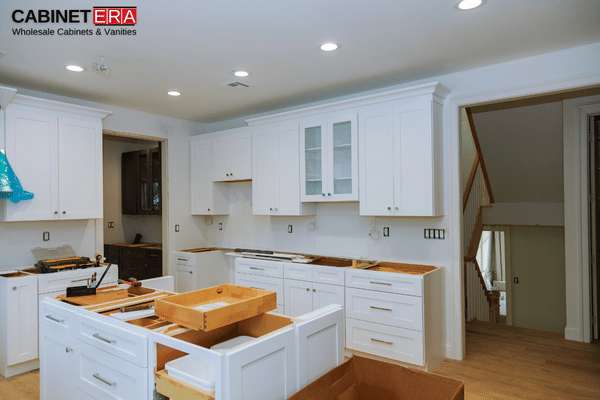 Increase the Value of your Home
Sometimes, homeowners decide to resell their homes, but the market value of their homes do not actually measure up to their expectation. The only way to achieve that is to improve the home's value by remodeling the house, changing the backsplash, getting new kitchen cabinets, etc. This tells prospective buyers that the home is worth the purchase. 
Lifestyle Changes
You may want to arrange your kitchen to best suit your family's needs. Perhaps, the lifestyle of the previous owners of the home does not work for you, or you just wanted to introduce new appliances in your kitchen to enable you and your family to enjoy better functions. 
Current Kitchen Trends
The kitchen design idea you finally opt for will depend on your reason for remodeling your kitchen — and one of those reasons can be staying in tune with current trends. This is necessary if your kitchen style or design is outdated. 
Special Needs
You may need to bring in a new appliance to add one or more functionalities to your kitchen. People remodel their kitchens for many reasons, and remodeling kitchens can be to satisfy a special need.
Increased Energy Efficiency
Financial incentives like reducing energy consumption can be one of the reasons people remodel their kitchens. For instance, adding skylights bring more sunlight and lowers dependency on artificial light.
Deterioration
Old kitchens need to be updated to meet current kitchen trends. Broken tiles, bad kitchen cabinets, peeling countertops, faded backsplashes, and obsolete appliances are also reasons to remodel your kitchen. 
Increased Space
If you don't have enough room for activity, storage space, or foot traffic, you probably should consider different kitchen models to create more space.  
Home Improvement TV Shows
Watching home improvement shows often gives people ideas on current kitchen trends to remodel their homes. Sometimes, they may not have considered remodeling their kitchen until they saw the show. 
New appliances and Latest Models
When you buy new appliances or update the existing ones to the latest models, they may not fit into your kitchen. Hence, you may need to remodel your kitchen so the appliances match.
To Create a Smart Kitchen
Finally, building a smart kitchen with the latest technology can also be a good reason to renovate your kitchen. 
For help with renovating your kitchen, do contact us today at Cabinetera. Our experts can walk you through the necessary steps for a kitchen remodel. 
You can follow us on Instagram 🙂