Your kitchen color is the first thing people notice when they step foot into your kitchen. It sets the tone for your kitchen and goes a long way to determine what emotion you feel when in your kitchen.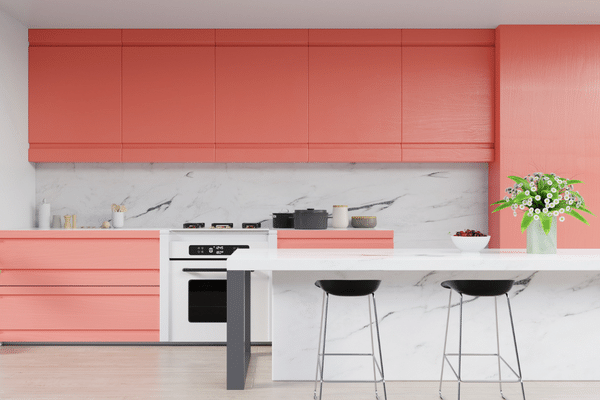 Just like other components of a kitchen, some kitchen colors have gained more popularity than others. If you need inspiration for kitchen colors, read on. In this article, we will be going through the top ten kitchen colors increasing in popularity this year.
Navy Blue: this is fast becoming one of the most popular kitchen colors. More cabinet models are coming in navy blue. This color not only makes your kitchen look sleek but also adds sophistication to your kitchen. What's more, the fact that this color has a dark tone means it doesn't stain easily.

White: give your kitchen a pristine look with this timeless color. You could make the whole kitchen white from cabinet to countertop and flooring, or you could mix this versatile color with other colors. White makes the kitchen look more illuminated and spacious. It gives your kitchen a tranquil feel.

Green: this is one of the cool kitchen colors that has become popular this year. Green gives your kitchen a refreshing look. You could use different shades of green, or you could stick to just one. It all depends on the kitchen design you are going for.

Red: looking for bold kitchen ideas? Here's one. Use red. Red kitchen cabinets have gained more popularity in 2021. From scarlet to rose red, all shades of red are welcome in the kitchen.

Black: black remains one of the most popular kitchen colors. With black, you can afford to be more adventurous while designing your kitchen. It is also important to pay attention to lighting if you are going for a black kitchen so that your kitchen doesn't appear too dark and brooding.

Light Blue: if you're looking for a cool kitchen, a light blue color would be just perfect for you.

Brown: this color might be old-fashioned, but it sure is gold. Moreso, it's making a strong comeback in 2021.

Orange: This color lends a fun and bubbly look to your kitchen.

Yellow: this unconventional color for a kitchen has gained popularity in 2021. It adds a lot of warmth to the kitchen.

Dark Purple: this color gives your kitchen a homely look. It's no wonder it's become one of the popular kitchen colors of 2021.
Colors make your kitchen come alive. Are you interested in revamping your kitchen with the magic of colors? Cabinetera has the ideal team for you. Contact us today at (708)78257777 or (410)8344808.