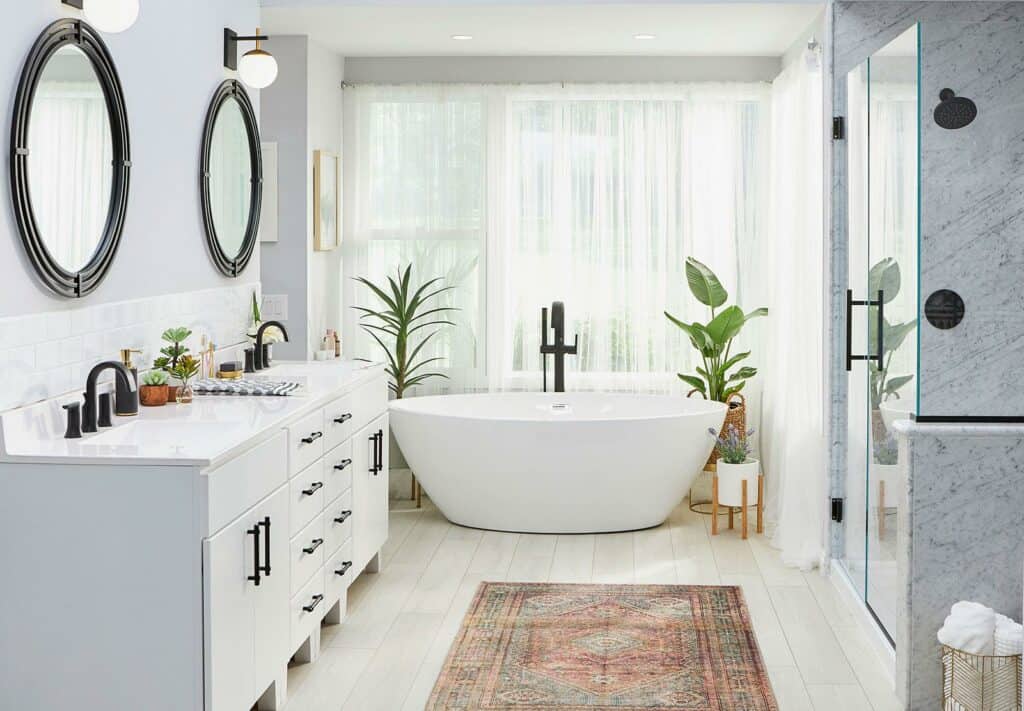 If you're looking for the best bathroom renovation ideas in Howard County MD you've come to the right place. If you are thinking of completely redesigning your bathroom or just looking for some ways to renovate your bathroom cabinets, CABINET ERA offers the best remodeling ideas for your dream bathroom.
Fan Timer Switches
While you're in the shower, you'll notice moisture build-up due to the heat and steam coming out of the bath. Excess humidity causes mold to grow in your bathroom. The best way to avoid this situation is to install a fan to remove steam from the bathroom during the showering process. These fans will also play a role in removing bad odors. Therefore, one of the best bathroom remodeling ideas would be to install a fan time switch that works based on the time you spend in the shower.
Freestanding Bathtub
One of the most popular trends today is freestanding bathtubs. Your bathroom will look luxurious and modern thanks to freestanding bathtubs. It will also give homeowners more space to relax.
Heated Floor
Another great bathroom remodeling idea is heated floors. Heated floors are sure to make your cold days feel warm and comfortable. You can choose between two types of underfloor heating. These; are water and electricity-based systems. When you choose a heated floor, you will not see the pipes. In this way, you can design your bathroom perfectly.
Heated Towel Rack
You can add heated towels to your bathroom refresh list. You should not forget that heated towels will provide extra comfort in cold months. These prevent the formation of mold by supporting the drying of your towels in humid and cold weather. At the same time, this process will be very budget-friendly.
Heated toilet
Another innovation you can make in your bathroom is the heated toilet bowl. When planning to have a heated toilet, you should keep in mind that you will need a socket on the toilet wall.
Vanity Cabinets
One of the most useful renovations you can make to your bathroom is to hide your cables inside your drawers. In this way, you will eliminate the clutter in your drawers. In addition, it will make homeowners' worktops more organized and functional.
Wall Flooring
Tiles will play a huge role in improving the look of your bathroom. It will be a great way to reflect your personality and style as well as increase the aesthetic value of your space. You can choose a wallpaper that will create a similar effect to bathroom tiles. You can browse our website to learn more about other bathroom design ideas in Howard County MD to help you get started with your bathroom remodel.
Neutral colors
If you like to see colorful artwork, beautiful rugs, and different decor in your bathroom, you can choose neutral colors such as gray, white beige, and brown for your decorations.
Concept
Determining the bathroom concept will allow you to move comfortably in your bathroom. The main goal here is to create a light and airy design.
Modern Look
Today, modern bathrooms represent simplicity and cleanliness with rustic touches that add warmth. Modern bathroom vanity is a style in which color schemes, shapes, and materials are combined with rustic untreated lumber or earthenware.
Marble Preference
Marble has become very popular today in bathroom counter preferences. Marble is often used in bathrooms. This is because it adds luxury and elegance. Our designers will support you in choosing the one that best suits your preference. For more information, you can browse our website for bathroom remodeling ideas in Howard County MD.
You can follow us on Instagram 🙂