The Ultimate Guide for Choosing Your New Bathroom Vanity. Tips and advice to help you choose your new bathroom vanity with ease and confidence.
When it comes to bathroom vanities, there are seemingly endless options from which to choose. But don't worry, this comprehensive guide will help make the process much easier.
We'll start by discussing what factors you should consider before making your purchase, and then we'll provide a detailed overview of the most popular vanity styles on the market today. So whether you're renovating your entire bathroom or simply looking for a new vanity to freshen up the space, we've got you covered!
Before we dive in, let's first take a look at some of the key factors you should keep in mind when shopping for bathroom vanities: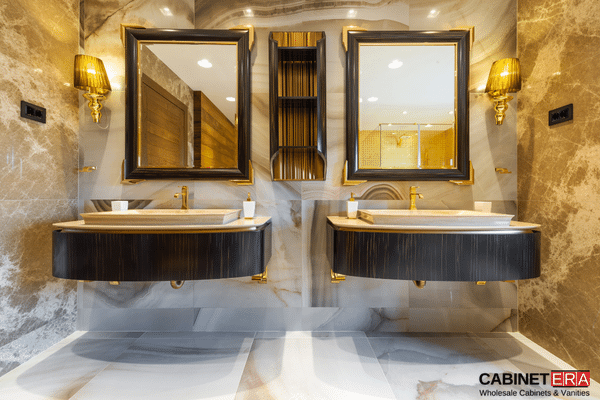 1. Size:
The size of your bathroom will also play a role in determining the right vanity for you. If you have a small bathroom, you'll want to choose a compact vanity that doesn't take up too much space. On the other hand, if you have a large bathroom, you can afford to go with a larger or more elaborate vanity.
2. Storage:
Another important consideration is storage. If you don't have much storage space in your bathroom, you'll want to choose a vanity that offers ample storage options. Vanities with plenty of drawers and shelves are ideal for storing all of your bathroom essentials.
3. Style:
Of course, you'll also want to make sure that the style of your new vanity meshes well with the overall style of your bathroom. If you have a traditional bathroom, you might want to choose a classic wood vanity. Or if you have a more modern bathroom, you might prefer a sleek and stylish glass or metal vanity.
4. Budget:
This is probably the most important factor to consider, as it will determine how much you can realistically spend on your new vanity. Bathroom vanities can range in price from a few hundred dollars to several thousand, so it's important to set a budget and stick to it.
Now that we've gone over some of the key factors to consider, let's take a look at some of the most popular bathroom vanity styles on the market today:
5. Traditional:
Traditional vanities are typically made from wood and feature classic design elements like raised panel doors and turned legs.
6. Transitional:
Transitional vanities blend traditional and modern styles, making them a popular choice for many homeowners. They often feature clean lines and simple hardware.
7. Modern:
Modern vanities are typically made from materials like glass or metal and feature minimalistic design elements.
8. Rustic:
Rustic vanities are usually made from wood and feature distressed finishes and natural details.
Now that you know more about bathroom vanities, it's time to start shopping for your perfect one! Keep the factors we discussed in mind, and don't hesitate to consult with a professional designer if you need help making your final decision. With a little bit of planning, you're sure to find the perfect vanity for your newly updated bathroom!
Working with a professional designer is the best way to ensure that your remodeled bathroom has everything you need and nothing extra. With so many options available, it can be hard selecting just one vanity style or color!
A nicely designed master bath isn't only about removing old fixtures while installing new ones–it's also an opportunity for incorporating some key features such as frameless glass doors which allow natural light into every corner of the room without losing privacy; recessed lights cleverly hidden behind panels allowing them blends seamlessly into surrounding walls making takes advantage whatever surface materials are being used (from wood paneling right up close against drywall); inward tilting wasted space under shines Stallion Bathroom Vanities for extra storage; and many more!
Of course, one of the most important aspects of any bathroom remodel is choosing the perfect vanity. This can be a daunting task with so many different styles, colors, and materials to choose from. But don't worry, we're here to help! In this post, we'll give you a crash course in everything you need to know about bathroom vanities, from the basics of vanity construction to the different styles that are available on the market today. By the end of this post, you'll be an expert on all things bathroom vanities!
Bathroom Vanities Keywords:
Bathroom Vanities Styles

Traditional

Transitional

Modern

Rustic

Materials

Glass

Metal

Wood

Design Elements

Classic

Simple

Minimalistic

Distressed Finishes

Natural Details
You can follow us on Instagram 🙂