Do you want a kitchen that is both beautiful and functional? If so, you need to start planning now. Creating a great kitchen takes time and effort, but it is definitely worth it in the end. In this blog post, we will discuss some tips on how to create a great kitchen that you will love. We will also talk about the benefits of using Cabinet Era products for your cabinetry needs. So if you are ready to get started on your dream kitchen, keep reading!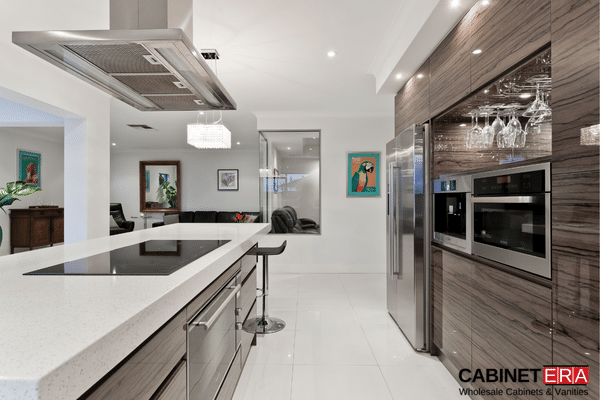 1. Choosing the Right Cabinets – Create a Great Kitchen 
One of the most important aspects of creating a great kitchen is choosing the right cabinets. Cabinets are available in a variety of styles, colors, and materials. You will need to decide what look you are going for in your kitchen before you can start shopping for cabinets. Are you looking for something traditional? Or do you want something more modern? Once you have decided on the style of your cabinets, you can start browsing through different options.
If you are having trouble deciding on the perfect cabinets for your kitchen, consider visiting a cabinetry showroom near you. At Cabinet Era, we can help you find the perfect cabinets for your space. We offer a wide selection of both semi-custom and custom cabinetry. We also have a team of design experts who can help you choose the perfect cabinets for your kitchen.
2. Pick Up Granite or Quartz – Create a Great Kitchen
Once you have selected the perfect cabinets, it is time to start thinking about countertops. Countertops are available in a variety of materials, including granite, quartz, marble, and more. You will need to decide what material you want for your countertops based on both your budget and your personal preferences. If you are looking for a durable option that is also easy to maintain, granite or quartz might be the right choice for you. But if you are looking for something with more personality, marble might be a better option.
After you have selected the perfect cabinets and countertops, it is time to start thinking about appliances. Appliances can be a big investment, so you will want to make sure that you choose appliances that will fit your needs. Do you need all of the latest and greatest features? Or are you looking for something more basic? Once you have decided on the type of appliances you need, you can start shopping around for the best deals.
You May Also Like; Cabinet Era | Making Your Kitchen Pop With Coastal Design Trends
3. Corner Cupboards – Create a Great Kitchen
Corner cupboards are the perfect candidate for a Lazy Susan, which adds convenient spinning storage to your space. You'll want corner cabinets that improve functionality and suit design schemes as well as lifestyle – from RTA kitchen furniture such has lowes' offers! Back top deals inspiration trends we've got ideas share.
Custom cabinets are great for adding a customized look to your kitchen. There is an extensive range of materials, from hardwoods all the way down through glass or metal; you can find something that will suit both style preferences as well costs! The finish options allow complete customization too with finishes like oil Painting (which requires more labor), powder coating painting(less expensive), and others in between depending on what's desired… And don't forget about add-ons such as custom lighting fixtures.
4. Backups Styles – Create a Great Kitchen
There are so many options when it comes to kitchen cabinets, but finding the perfect one for you can be difficult. Let Cabinet Era help by providing an extensive range of storage and design-friendly designs that will suit any home cook's needs! From corner units with extended reach spaces or pull-out drawers in your island – we've got something right at every price point imaginable including deals on backups styles too if they become tired over time.
5. Affordable Budget – Create a Great Kitchen
Kitchens are often one of the most-remodeled rooms in a house, and sometimes people need to get them done quickly. If you're on an affordable budget or tight timeline for your kitchen remodel project then stock cabinets might be perfect! While there won't always be as many options available when picking out custom-made ones (unless it's something really specific), these readymade versions usually ship within days so that they can fit into place right away without any delay whatsoever.
If you follow these tips, you should be well on your way to creating a kitchen that you will love. Cabinet Era is here to help you every step of the way. Contact us today to learn more about our cabinetry services or to schedule a design consultation. We look forward to helping you create the kitchen of your dreams!