Are you building a house and working on a kitchen design? Or perhaps you are ready for a new look and are ready to remodel. Whatever it is, you are going to need to plan ahead for the perfect kitchen design.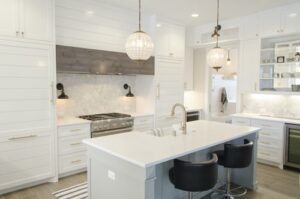 So where do you begin? What is the best way to go about designing your dream kitchen? How can you know what colors and materials will look best together? In this post, we will take a look at some kitchen design tips that will help you design the perfect kitchen for your home. Let's get started.
Things To Consider In Kitchen Design
There are several things to take into consideration when designing a kitchen. Here are some things that you should think about in your kitchen design:
Countertops: Your countertop is one of the main focal points in your kitchen. It is where you will prepare food, where people will congregate, and where the eyes tend to drift to when you enter the kitchen. That being said, the material that your countertops are made of can make or break your whole design. There are several materials to choose from when designing your kitchen including natural stone, quartz, porcelain, and marble tops.
Backsplash: Whether you are doing an accent wall or a small backsplash behind your stove for a pop of color, a backsplash can really tie a kitchen together. A backsplash should be designed to make a statement. You must decide if you want to go for a bold statement, or a bit more of a conservative one. And, of course, you'll need to think of the colors. While it doesn't need to match the counters, it should absolutely compliment them perfectly.
Cabinet Color: When designing a kitchen, cabinet color is a big decision to make. There are so many beautiful colors to choose from, and the right color should compliment everything from the countertops to the floors. The most important thing in design is ensuring that everything flows.
Floors: The material and color of your floor should be the factor that ties everything together. Choosing floor type and color is a big job because this is the last piece of the puzzle, but it can bring your whole kitchen design together in a great way.
How To Tie It All Together
If you want to know exactly how your kitchen will look when it is all put together, then the best way to do that is to check out the Kitchen Visualizer by Cabinet ERA. With this virtual visualizer, you are able to see exactly how your choices for each and every part of your kitchen will come together and look at the end so that there are no surprises and your kitchen turns out to be stunning.
When designing a kitchen, you don't want to leave anything up to chance, and with the Kitchen Visualizer, you don't have to. See how everything will turn out before you pay for it and enjoy your perfect kitchen.