Sometimes, space can be a difficult thing to get in a kitchen. This is a problem that a good number of homeowners are likely to face regardless of how old or new the kitchen is. When you consider the fact that space has a huge impact on the quality of your experience in the kitchen, it becomes necessary for you to maximize the space in your kitchen so that it's perfect for you. How do you do this?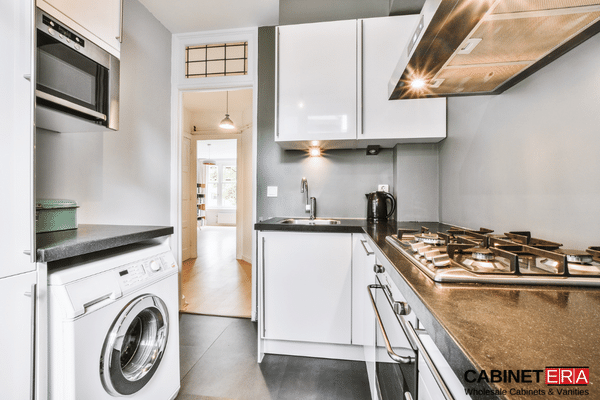 In this article, we'll be going through some key points on how to design a functional kitchen even with little space.
Natural Illumination:

you'd be surprised by how much natural lighting can improve your kitchen space. Light makes your kitchen brighter and exposes hidden spaces that you would ordinarily ignore if your kitchen was darker. What are you waiting for? Remove anything that could obstruct light from entering your kitchen, so you can begin to enjoy all the benefits of natural illumination in your kitchen.

Declutter:

if you're trying to create a

practical kitchen

from a small space, this is one of the most important pieces of advice you'll get. Nothing steals space from your kitchen more than clutter. Take a look around your kitchen, if there's anything that has no business being on the floor or countertop, take it out. Do not hesitate.

Less for More:

the fewer

cabinets

you have in your kitchen, the more space you'll have. Upper

cabinets

can make your kitchen look too small and they can make it difficult to utilize the space on your countertops. Rather than make your kitchen clustered with upper

cabinets

, why not let them go?

Glass:

for more space in your kitchen, it would be a good idea to use glass doors on your

vanity

and cabinet. Fortunately, glass is so versatile that you can get a whole lot of

vanity ideas

with glass doors. Glass makes your space look bigger. It also allows your kitchen to be easily illuminated.

Colors:

if you're interested in making your kitchen look bigger, you do not need dark colors. What you need are light colors. While light colors can make your kitchen look brighter, spacious,

and airy, dark colors tend to make your kitchen appear crowded.
Understandably, renovations can be quite tasking. At Cabinetera, we have all the experience you could need on kitchen remodeling or redesigning bathrooms. If you are ready to make your kitchen space work for you, contact us now at (708)78257777 or (410)8344808.
You can follow us on Instagram 🙂