We have prepared our article about The Advantages of Renovating Your Kitchen in Winter for you. Kitchen renovation or remodelling is a very important undertaking. It helps bring out the beauty of your cooking space and even adds to the value of the space.
If you're looking to resell your home any time soon, the second benefit might just be the best reason to do your kitchen remodeling now. 
Aside from that, there really isn't a perfect time to remodel your kitchen, until you feel the need to switch up the look of your kitchen. But here, we're talking about remodeling your kitchen in winter. Yes, lots of people are proponents of kitchen remodeling in the winter. But why change your kitchen design in winter — when the weather isn't so favorable for everyday activities?
Here are some reasons why we think a kitchen renovation in winter is a great idea: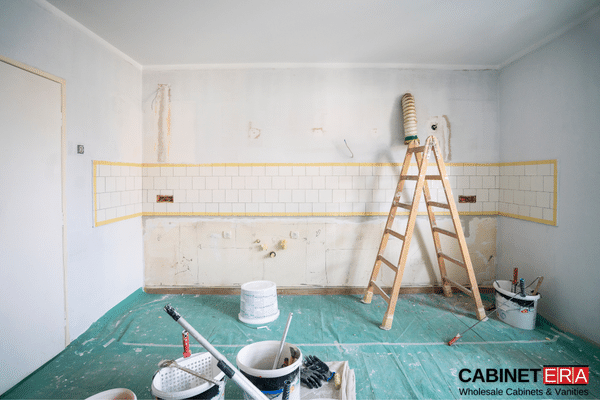 1. Prep your time for the celebration – Kitchen Renovation
Yes, we know how festive the air is in winter. Most of us want to go home before dark, and most family members gather around just about that same time. As such, the kitchen would certainly be a very busy place, bustling with activities day in, day out. If your kitchen isn't in shape as such, then it makes sense to give it a DIY facelift. It doesn't have to be an expensive undertaking. You can try out a DIY kitchen remodel. 
2. Add value to your home – Kitchen Renovation
We think that wintertime is an excellent opportunity to raise the resale value of your home if you intend to sell it come next spring or even in the winter. You can fit in new kitchen cabinets, new kitchen designs, and even new appliances. During the spring and summer months, most real estate deals are recorded, but before then, your home would already be up for the market. Besides, you can get better value for your property.
3. Plan a winter vacation – Kitchen Renovation
Kitchen renovations in winter sound really sweet if you're big going to be home to experience the disruptions to your daily routines. You can take the time and go somewhere fun while the renovations get underway. 
The first stages of renovation projects like these are often laborious and may get in the way of your daily routine. Thankfully, you get to avoid all of that while even having a great time with the family, away from home.
Need help planning a kitchen renovation in the winter? I bet you could really use the help of our experts at Cabinetera.