Are you looking to give your kitchen a new look? Whether you are remodeling the space or building from the ground up, your cabinets are an important decision that you will need to make. Besides the design of your kitchen, your cabinets are one of the most outstanding decisions you'll have to make.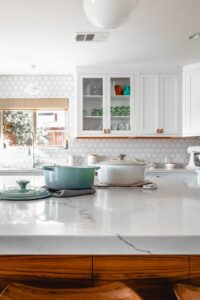 So how can you choose the perfect cabinets for your kitchen? Well, to start with, you need to think about the color. A color scheme can make or break any area, but especially a kitchen. And your cabinet color can really tie everything together. So let's take a look at the best cabinet colors for this year.
Best Kitchen Cabinet Colors For This Year
Natural Wood Tones: Beautifully stained wood is the perfect accent to any kitchen. Undeniably gorgeous, wood brings a natural element to any kitchen area as well as a warmth that can't be matched. Whether you are using all one wood color or you mix and match, the natural look is perfect to create a bright, airy space.
Shades of Green: From sea green to forest green, this color is hot this year. Green is a versatile color that is sure to make your kitchen cabinets pop. It goes with so many other colors like black, white, beige, as well as so any others. Green is a tranquil color that really brings a feeling of calming and peace to your home and your kitchen.
Black: This is a very popular color this year for kitchen cabinets. Edgy, yet elegant, black can really bring a kitchen together. It pairs perfectly with any other color and can really make your space look classic with a modern twist. Black cabinets are perfect for almost any home.
Warm Neutral Hues: While white used to be the way to go, many people are warming up their cabinets with neutral, earthy colors. Beiges, greys, mushroom hues, etc. are one of the best cabinet colors of this year. They look excellent paired with marble countertops and brass accents. This gives the kitchen a very warm and airy look that can't be replicated with any other type of hue.
Dark Blues and Greys: Colors like a muted navy or charcoal colors can give your kitchen the look and feel of an English countryside cottage. It looks and feels like something from the old world, but gives a modern vibe as well. These lovely hues are a beautiful way to bring life to your kitchen cabinets and make your kitchen look elegant and modern.
If you are looking for cabinet colors that will brighten the room, tie everything together, and give your house a modern, yet homey feel. Then check out the colors lifted above. These are the best cabinet colors for this year and a great way to make your kitchen stand out. Make your kitchen space a beautiful place for you and your family to enjoy your time together.