Although kitchen cabinets and bathroom cabinets look alike, they are different in many ways. It's easy to mistake a kitchen cabinet for a bathroom cabinet. We've provided vital differences that would help you differentiate a bathroom cabinet from a kitchen cabinet while remodeling the kitchen or remodeling the bathroom.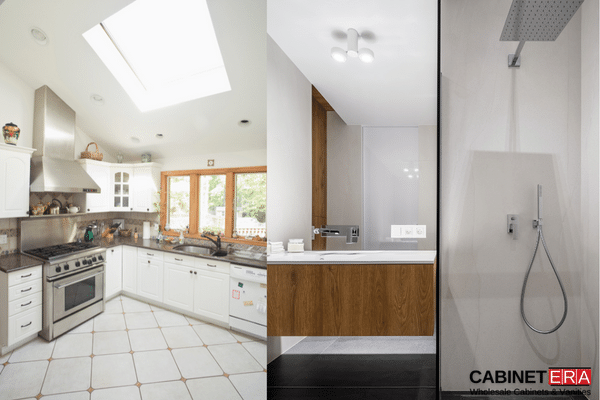 Dimensions
There is a difference between the height and depth of a kitchen cabinet and that of a bathroom cabinet.
Depth
Kitchen cabinets are about 24 inches deep to fit appropriately into the space in the kitchen. However, the bathroom has less square footage and a limited floor plan than a kitchen. Hence, standard bathroom cabinets are about 21 inches deep. The kitchen cabinets have the extra inches in the cabinet to provide enough storage space for the different kitchen utensils and cookware.
Height
In terms of height, the kitchen cabinet is taller than the bathroom cabinet. The kitchen cabinet is typically 34 inches long. This height makes it easier for most users to stand over comfortably while using the countertop without bending over. The bathroom cabinets are shorter, with a height of 31 inches. The bathroom cabinet is used basically for storage. Also, the countertop area of the cabinet is used mainly for placing materials needed while using the mirror. You're not going to be doing a lot in the cabinet in the bathroom caompared to the cabinets in the kitchen.
Cost
Bathroom cabinets are more miniature than kitchen cabinets and hence would require less material of construction. This means that bathroom cabinets are less expensive than kitchen cabinets. Although the smaller height and depth would reduce storage capacity, bathroom cabinets fit small floor plans, so most small cabinets are suited for the small bathroom design.
Construction Material
The wood type and its finishing will determine the function of the cabinet. The kitchen is an open space and has enough space for air circulation. Therefore, the temperature and humidity level usually get balanced, hence it does not affect the cabinet. However, steam and humidity affect the bathroom cabinet. So, bathroom cabinets must be made with moisture-resistant materials to prevent them from warping, sagging, and degrading.
Are you still confused on how to identify the difference between kitchen and bathroom cabinets? At cabinetera, we have a team of experts that will provide you with the right cabinet for your kitchen or for your bathroom. Feel free to call us today at (708)78257777 or (410)8344808.
You can follow us on Instagram 🙂