If you want to get higher value for your property, the kitchen is the best place to remodel. Homebuyers usually check out for an up-to-date kitchen design before buying a home. A kitchen remodel will increase a property value change. About 8% of homeowners carry out a kitchen remodel to improve their property's value. Many homeowners now know that a property value changes by kitchen remodeling.
Here are some ways a kitchen remodel can improve the value of a property: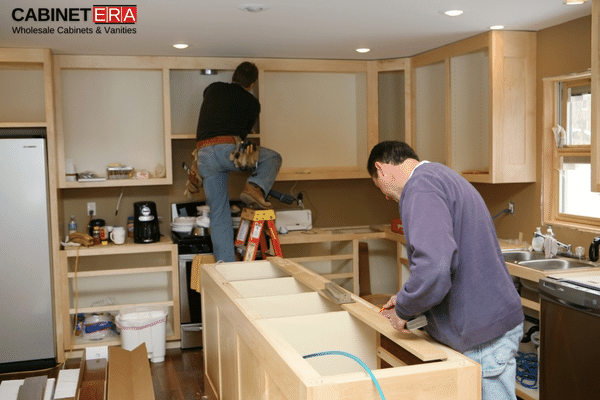 Increases the ROI of the Property 
A modern kitchen remodel would make your property a top choice for new home buyers. Remodeling the kitchen would also increase the return on investment of the total cost of upgrading your property. So far, the standard ROI for a midrange kitchen remodel is between 50% and 60% of the total cost of remodeling the kitchen. So, say you spend about $80,000 upgrading your kitchen design, then you should be able to recoup between $40,000 to $48,000.
It makes your home a top choice for buyers willing to pay more
Homebuyers pay more for a property with high-end finishes and appliances in the kitchen. 80% of homebuyers in the market consider the kitchen as a significant factor influencing their decision when buying a new home. 69% of home buyers would be willing to pay more for a property with newer appliances in the kitchen, while 55% of the homeowners have also agreed to pay extra for a property with a kitchen that has a granite countertop. 
New appliances & furniture increases Selling Power
A kitchen remodel is usually expensive, so it is vital to make a budget for the renovations. A reasonable budget shouldn't cost much but yet provide the necessary appliances and upgrades. Certain areas of a kitchen can be upgraded with little cost but guarantee you a higher ROI. 
Changing the cabinet and replacing the countertops with granite or quartz will not cost much but will improve the value of your property. Also, get good lighting that will enhance the look of the kitchen space and make it beautiful. While changing the countertops, you should also consider changing the sink and faucets. Stainless steel sinks are durable and will not require too much maintenance. 
At cabinetera, we have a team of professional contractors to carry out your kitchen remodel that will give you the best ROI without costing much. Call us today at (708)78257777 or (410)8344808.
You can follow us on Instagram 🙂