A contemporary kitchen is a place for creativity, imagination, and new ideas. It's where you can find avid cooks who enjoy trying out different recipes to create their own personal style or just get some fresh inspiration from other home chefs in the neighborhood!
If you're thinking about kitchen remodeling, contemporary kitchen cabinets are a great way to add both style and function to your space. When it comes to cabinetry, there are endless possibilities – from sleek and modern designs to warm and rustic woods.
No matter what your personal taste may be, there's sure to be a style of contemporary kitchen cabinet that will suit your needs. So start exploring and get inspired for your next kitchen remodel!
Who knows, you may even come up with a few new recipes of your own along the way. 😉
The custom kitchen is designed to give a nod toward mid-century modern design but fully embraces contemporary trends. The sleek and all-over texture gives this room an organic look that helps make features like the linear chandelier pop out even more!
A mid-century modern kitchen wouldn't be complete without some vintage finds, like the bar stools and small appliances. But this kitchen doesn't stop there—the use of clean lines and a black, white, and gold color scheme gives it a timeless quality that will never go out of style.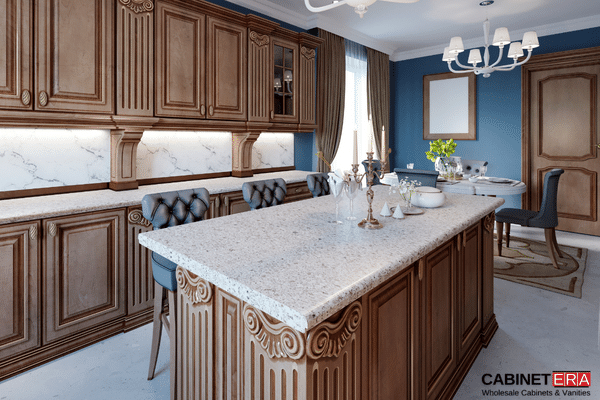 This contemporary kitchen takes a more traditional approach, with its white shaker-style cabinets and subway tile backsplash. But it still has some fun contemporary touches, like the black stools and stainless steel appliances.
If you're looking for a kitchen that's both stylish and functional, this is the perfect example! The large island provides plenty of prep space and can even be used for dining. And the open layout ensures that the cook is never too far from the action.
Do you have a favorite style of contemporary kitchen? Share it with us in the comments below!
Contemporary kitchens – Kitchen Cabinets
Contemporary kitchens are all about personalization and creativity. So, if you're thinking about remodeling your kitchen, don't be afraid to think outside the box and experiment with different styles, materials, and colors.
You May Also Like; 2022 Kitchen Cabinet Colors
After all, your kitchen should be a reflection of your unique personality and taste. So have fun with it and let your creativity shine through!
The contemporary kitchen is a great place to explore your culinary creativity! Try out different recipes, experiment with new flavors, and get inspired by other home chefs in the neighborhood. If you're thinking about kitchen remodeling, contemporary kitchen cabinets are a great way to add both style and function to your space. Cabinetry is one of the most important aspects of any kitchen design, so it's important to choose wisely!
There are endless possibilities when it comes to cabinetry – from sleek and modern designs to warm and rustic woods. No matter what your personal taste may be, there's sure to be a style of contemporary kitchen cabinet that will suit your needs. So start exploring and get inspired for your next kitchen remodel! Who knows, you may even come up with a few new recipes of your own along the way. 😉
You can follow us on Instagram 🙂