Thinking of choosing a kitchen island style and shape that fits best in your kitchen? If yes, then this guide to six kitchen island styles and shapes is for you. The good thing is that each of these island styles comes with a design that works for almost any kitchen layout.
Of course, depending on the peculiarities and needs of your kitchen, there are many reasons you might want to switch from one kitchen island style to another. So whatever the case is, we`ve got you covered. Read on to find out which island-style works best for you.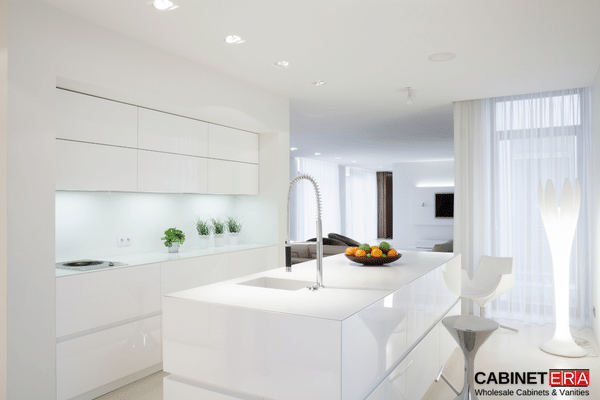 1. L-Shaped
The L-shaped kitchen island ebbs and flows with the shape of your kitchen or fills in any blank space to give you more room for storage and preps. To help you make an informed choice, here are the pros and cons:
The biggest benefit you get to enjoy with the L-shaped island is the availability of ample space in your kitchen. Homeowners who have this installed in their homes can agree that an L-shaped island gives them enough workspace to accommodate up to two chefs at a time. You can even create a bar-like sitting arrangement for a little hangout.
L-shaped islands offer ample space, but they aren't precisely open-concept; they chop up your kitchen design and may reduce your efficiency during meal prep since you`ll have less space at the corners.
2. U-Shaped
The style here appears relatively novel and very attractive, but before you decide on it, take a look at the pros and cons
The U-shaped island allows you to hold everything you need for meal prep in one space. It is highly functional and spacious, if not even the largest and most accommodating island style. You get extra storage space and workspace. What's more? There's enough room for seating when working or for dinner.
The large space of the U-shape island style can as well be its biggest disadvantage. Unless it features a Lazy Susan or swing-out device, the double corners of cabinets will likely limit accessible storage space in the kitchen. Besides, homeowners may not like the idea of always going some distance just to pick up an item.
3. Galley
Galley island styles have fewer frills and a straightforward design, and they can be perfect for any kitchen design.
Since there aren't any corners and curves, galley island style allows for more judicious use of space, and favors bar-style sitting. They are the best island design for open-concept kitchens, as it ensures your space remains efficient with their streamlined design.
They may be too small to take in all your appliances, and due to the absence of intricate or larger-than-life designs, homeowners consider them quite dull for a lively kitchen layout.
4. Circular or Curved
Honestly, this island design can add a uniquely elegant look and personality to your kitchen layout. The curve can be wholly circular or semi-circular.
Like L-shaped islands, they pack enough space, allowing ample prep and working space. And if you don't want a run-of-the-mill island design, then you can make peace with a curved or circular island.
Yes, they appeal to the eye, but a curved island design isn't always efficient for meal prep and storage space. Imagine going around the curve each time you need to pick something or move around.
5. Rolling
In case you don't have the space to accommodate a built-in kitchen island, a rolling island is a way to go!
The rolling island design allows you to roam your kitchen island around when need be and then tuck it neatly away when you're done cooking. Interesting right? But that's not all. Talk about the crème de la crème in versatility when it comes to kitchen islands, and you can settle for a rolling island. Besides, they are much more affordable than others.
Depending on your demand for workspace, prepping and cooking meals on wheels may just not work for you. Again, they're compact and not ideal for large kitchens. Making it larger would make it cumbersome to wheel around.
6. Furniture-Style
This has a classic feel, though not as common as the other styles.
Whether it's custom-built, an antique heirloom, or a store-bought piece, a furniture piece adds a lively punch to your kitchen. It's an excellent way to introduce your personality into your kitchen space. In addition, the furniture pieces often aren't bulky, so they fit pretty well into your kitchen.
Durability and space are the biggest concerns. Furniture pieces aren't always perfect for storage. Wear and tear could kick in anytime, and furniture tops, in general, can't take a beating the way granite or quartz can.
Looking for an experienced kitchen designer to help you bring your dream kitchen alive? Contact us at Cabinetera and become one of our happy clients. Call us today at (708) 78257777 or (410) 8344808 to schedule a consultation.