With all the activities that go on in the kitchen, it can easily be called the most used room in the house and for this reason you would want it to be a space you enjoy spending your time. Apart from the conventional appliances that grace your kitchen interior, selecting a style or design you would appreciate in the future is significant.
Whether you are a professional chef or the regular omelet maker, kitchen style descriptions can focus on a variety of features such as layout, themes, aesthetics and other monumental features.
In this article, we list some specific designs that are popular and chic together with a few guidelines to help you achieve them.
If you are looking to remodel your kitchen, having an idea of which style may suit your personality can be a major help.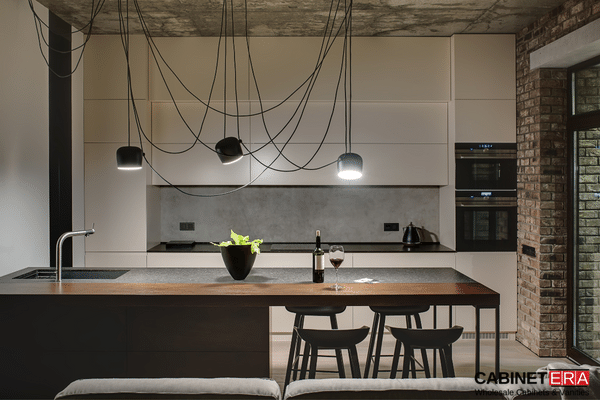 1. Transitional Kitchen Style
The unique feature of this style is that it affords you the opportunity to merge traditional and modern looks without creating any noticeable contrast. The design, color and feel also mixes with each other inspiringly to improve your personal style.
If you intend to refurbish your culinary room and find it challenging to decide between a predominantly masculine or feminine essence, or you simply want something creative and functional, this kitchen design is for you.
Transitional kitchens embolden creativity, but one thing to keep in mind when selecting this style is that not all elements have the ability to complement each other. Because of this, seeking professional advice can go a long way in making knowledgeable choices.
2. Traditional Kitchen Style
Traditional kitchens are known to be highly stylish and tastefully designed kitchens that have truly withstood the passage of time. These kitchens were utilitarian in a time when class and caliber were important priorities. The style was preferred due to the warmth, homeliness and inspiration it provided for its users.
If sophistication and grace are in your books, traditional kitchen styles might just be the one for you.
Farmhouse interior colors include neutral, off-white, white, grey, and other light tones. This style is simple, homely and offers a personality infused look. This kitchen style focuses on using natural materials for aesthetics. There is usually ample space to cook large meals. Farmhouse is a versatile style that works well with industrial and traditional style, though there is not much room for elaborate design.
This unique style of decor uses textured materials to create a classy but rugged feel. Large windows, exposed brick, piping, unfinished woods, metals and stainless steel are all characteristics of an industrial styled kitchen. Floating cabinets and shelves give the illusion of space, while brick walls and stainless steel can take your design to a whole new level. Without the right accessories, achieving this style is almost impossible.
5. Modern Kitchen Style
It is majorly characterized by bold and bright colors, wooden fixtures, in-built appliances and sleek designs. Modern kitchen designs give enough room to infuse personal style. The layout is usually very simple and functional, reduces clutter, and provides homeowners with enough space to work efficiently.
6. Beach Kitchen Style
Beach kitchen has a cheerful, bright, and fresh feel. They are designed with the sea, sand, and sky in mind, and that's why they feature plenty of bright colors and glass furnishing. This style is perfect if you want to create a welcoming and relaxing space for cooking and entertaining your guests.
7. Smart Kitchen Style
Designing this type of kitchen needs professional planning and execution. An experienced professional can help here. Technology is transforming our kitchens and making appliances smarter, faster and more efficient. Ultimately, this makes the quality of life better. From having apps that can control light bulbs to smart refrigerators, these high-end appliances are worth every penny. Building a smart kitchen definitely eases inconveniences and makes things easier.
8. Mediterranean Kitchen Style
Earth tones are used to create warmth. This style leans towards the use of natural materials like wood, bricks and stones. Hardwood floors are common, majorly in lighter shades to give a light, bright, and welcoming feel. Stone details, carved tabletops, door knobs, raw iron on windows, and front doors are also common features in this style.
9. Rustic Kitchen Style
This is a French country style kitchen. If you want a kitchen that combines simplicity and old fashioned charms, the rustic kitchen style might be just what you need. This kitchen style makes use of untreated wood, deep and natural colors, stone-inspired worktops and mosaic tiles.
Open shelving with a display of your pots and pans on a hanging rack would look great. You could also add a modern twist to your rustic design by using modern furniture and industrial lighting.
10. Craftsman Kitchen Style
This style is heavily defined by the woodwork, natural light, natural materials, and natural colors. IT is not flamboyant, but it balances comfort and style. The accessories are very simple and traditional. Customization and personalization of style are very common with the craftsman kitchen style.
Achieving the kitsch style of your choice can be a daunting task, but can we help you bring your dream kitchen alive? Contact us at Cabinetera and become one of our happy clients. Call us today at (708) 78257777 or (410) 8344808 to schedule a consultation.