In case you're wondering how to set up an industrial kitchen that suits your style, or you simply desire to know more about the 'look' and 'feel' of having the experience of an industrial kitchen, then this article is for you. Here, you will find some pretty valuable guides and better clarity to help you make your amazing industrial kitchen style imaginations a reality.
Enjoying the 'look', 'feel', and 'cooking' is not all that there is in an industrial kitchen. It is more of having quality time with your family, friends, loved ones, and guests, while the cooking is on.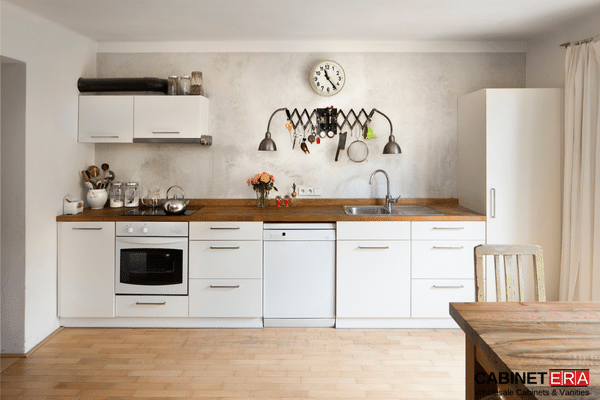 Industrial-Style Kitchens at a Glance
Most of the appliances you'll find in this kitchen style are restaurant-based items, raw materials, and various cabinetry styles. Think of having a kitchen with exposed bricks, raw materials, concrete walls, and stainless steel to help give a more expansive look. Some filament light bulbs, touches of gray colors, use of wood, and some spaces where you can also add finishings. Interestingly, this kitchen style is pretty easy to maintain.
Setting up an Industrial-Kitchen Style
Check out these 5 steps to creating an industrial style kitchen in your home today:
1. Keep things open and sleek
Taking inspiration from the bareness and spaciousness of industrial warehouses, you can keep things open and airy. This approach is ideal for large kitchens with high ceilings. However, you can also use them in smaller kitchens. Reflective surfaces can also be used to create the impression of a room being larger than it originally is. Therefore, stainless-steel appliances are great for opening up your kitchen space. Additionally, you can use an induction hob to give your kitchen a cool minimalist feel that matches well with current trends.
2. Try grey color
Understand that the look of your industrial kitchen depends much on the color, so you might want to opt for raw, industrial colors like copper, grey, and black. If your kitchen is small, you might want to keep darker colors to a minimum. Dark colors can make the kitchen space seem more enclosed. As for appliances, try stainless steel and chrome, because they fit best.
3. Keep things exposed
Since industrial décors are so unique due to their simplicity, another strategy to explore is exposing the brickwork in the space. This has a way of adding a modern, urban feel to any room. In fact, it works well as a feature wall in your kitchen or dining space. In case you do not have any brickwork to expose, you can get brick wall wallpapers; they can give you the same feel.
To make this style a bit more punchy, you can take out cupboard doors, which allows you to create open shelving, where you can display pans in racks hanging from the wall, or over your kitchen island. In addition, you can also try exposed lighting. They are just perfect for the look. Light bulbs and long hanging wires, for instance, can make a stylish alternative to more decorative fittings, but be sure to have every exposed wire adequately checked by an electrician before using the kitchen.
4. Keep things simple
You can add raw materials and simple things like wood and stone to add to the bare look of the industrial-style kitchen. We understand that these materials have become quite the trend with interior decorators since 2019. A good idea is to try stone or concrete worktops, tiles, and floorings. In addition to this, you can consider using other raw materials,  such as wood, to add in an organic ambiance.
5. Reuse and recycle
When looking to create an industrial-style kitchen, using recycled furniture can help you bring your imagination to life. This means that an old metal barstool or wooden table will fit well in your industrial kitchen. You can transform a piece like a wooden workbench, for instance, into a dining table. You`ll be surprised to realize how unique and stylish this will look.
Are you looking to hire an experienced kitchen designer to help you bring your dream kitchen alive? Contact us at Cabinetera and become one of our happy clients. Call us today at (708) 78257777 or (410) 8344808 to schedule a consultation.