Creating a modern-looking kitchen does not necessarily require an expensive makeover. In fact, what you do need is the right ideas, some classic or modern decorative pieces, and of course, the right professional guidance. 
Contrary to some opinions, you can even do this yourself. In this post, we'll highlight a few latest kitchen design ideas that will help you transform your old kitchen into that L- shaped modular kitchen design you've always wanted. 
Let's get right to it!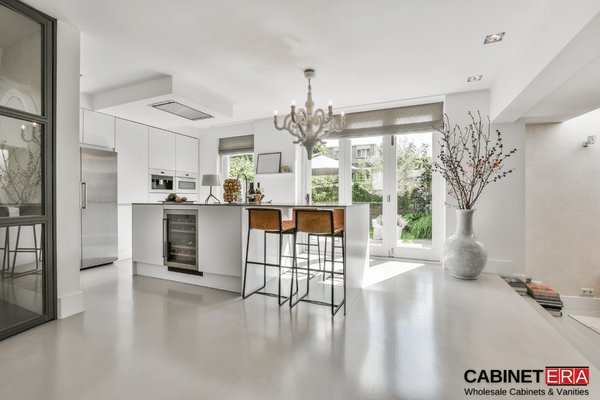 Choose yellow for a flamboyant look
Have you checked out how chic yellow can make your interior appear? Modern cabinets come in some cool light colors, and one of them is yellow. If you're looking to switch things up, consider using yellow-colored kitchen cabinets. Against a lovely backsplash, this update can dramatically turn the look within your kitsch around. 
Consider coffee-colored kitchen cabinets and tiles
This is a fantastic idea for a modern L-shaped kitchen design. You can't help but notice the relaxed and inviting ambiance it creates within the kitchen. It is a perfect example of a modular kitchen design with details that exude warmth and style. With adequate storage space, you can also throw in some light decorations as the cherry on top of the design.
Try the L-shaped kitchen design with an island
If you're concerned about space and storage, you should try out the L-Shaped kitchen design with an island. This design gives you the open layout feel while still allowing you access to enough prep space.
Subtle and sophisticated Modern L-Shaped kitchen design
Here's another excellent kitchen cabinet design that you might want to try out. This combination of subtle and slightly sophisticated kitchen design looks so simple and sophisticated at the same time. 
The L-shaped modular kitchen design can have an additional breakfast counter-type space. The sophisticated look can come in the form of exquisite floor designs of patterns. In this kitchen, you have room for moving around, entertaining friends, and preparing meals as usual, as well as enough storage space in the kitchen cabinets. 
Broken L-Shaped Kitchen design
The broken L-shaped kitchen design is best for homeowners with multiple walkways in their kitchen area. This modular kitchen design works around entry and exit-ways by cutting off counter space and cabinetry. It then adds to adjacent, disconnected walls. This way you gave enough room for both work and traffic flow.
Want to learn more?
For more chic L-shaped modular kitchen design ideas, feel free to check out our latest kitchen design catalog or talk to any of our kitchen cabinet design experts today. At Cabinetera, we kitchen design ideas that suit your style and personality. Contact us today to get started.
You can follow us on Instagram 🙂